WE ARE MONITORING THE CORONAVIRUS CAREFULLY AND HAVE BEEN DOING OUR PART BY IMPLEMENTING ADDITIONAL SAFETY PRECAUTIONS. WE ARE MAKING EVERY EFFORT TO ENSURE OUR CLIENTS ARE TAKEN CARE OF AND THAT OUR TECHNICIANS ARE SAFE AS WE ENTER OUR CLIENT'S HOMES & BUSINESSES.
WE HAVE MOVED
Our New Office Has Moved To
1556 Hwy 56
Creedmoor, NC
Right next to Walgreens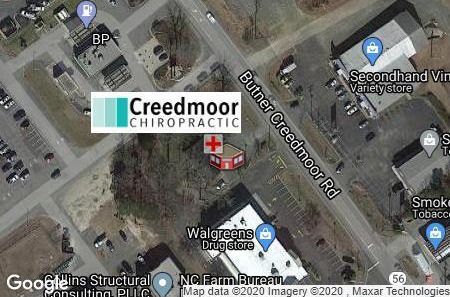 Chiropractic Care That Works!
Schedule an appointment.  Leave us a review.  Or just say, "Hi."
We check these requests several times per day, but if you need to see us ASAP, it is always fastest to call,
919-528-2665
We understand that choosing the right doctor for your unique condition is an important decision and can be a difficult one to make.  So spend some time with Dr. Borromeo for a consultation about your condition and options, at no charge.

If our treatments aren't right for you, Dr. Borromeo is a great resource for referrals – either way, you will be on the road to recovery.
1:

There are no long term commitments or care plans.

 
Although treatment time varies from person to person, our goal is to get you out of pain in the shortest amount of time.  In many cases, people start feeling better within the first few visits.
2:

We also do not take any unnecessary x-rays.
You will be treated on your first visit.
3:

We are a local business.

 
Our office is built by reputation and referrals within our community.  Thus, we have created an environment that is warm and welcoming to all friends and family.
Creedmoor Chiropractic has served the Creedmoor area since the early 1980s.  Our office in the town of Creedmoor, right off of Main Street (behind CVS Pharmacy).



We are committed to be your home for neck and back pain relief.

  Aside from chiropractic care, we offer a variety of massage therapy styles, ranging from medical massage to relaxation massages, and other advanced techniques.  On top of that, we offer care for many other types of muscle and joint complaints, including arthritis, E.D. Therapies, sport's injuries, headaches, and injuries that arise from automobile accidents like whiplash. The office can also offer nutritional support to combat disease, pain, weight loss, and general lifestyle changes for optimum health.
I have been a patient of Creedmoor Chiropractic since 2002. The service is outstanding.  Dr. AJ provides excellent chiropractic care and services. The office staff is superior on scheduling and making adjustments to fit my schedule or needs.